How the city of Aschaffenburg digitalized its citizen services quickly and easily with cleverQ.
Klaus Herzog, Mayor of the city of Aschaffenburg digitized the citizen services of his city. The customers can save themselves long waiting times in the waiting area of the citizen service offices. The allocation of appointments and waiting time becomes transparent with cleverQ. Free date choice is possible with webbrowsers, a free App or locally at digital counters.
How did the registration for citizen services in Aschaffenburg work before cleverQ?

The problems with the old appointment system were excessive waiting times, poor availability of appointments and waiting times that were not transparent for the customer. Either the customers came directly to the citizen service office and pulled a number on the spot, which often entailed considerable waiting times, or they reserved an appointment online. The problem here, however, was that appointments were only available days later. So most customers were forced to sit around in the waiting area. The demand for citizen services is enormous, space is limited.
What makes cleverQ different? What are the advantages?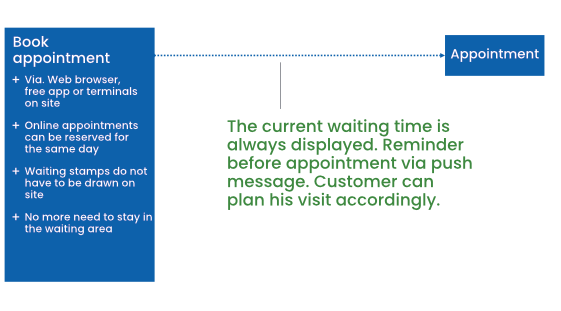 Connecting existing systems to a central, digital service and adding new options is cleverQ's strength. In short, cleverQ digitizes traditional systems in a clever way. Always with the customer's benefit in mind, we offer unique benefits for customers and employees. No waiting times in the waiting area, numerous possibilities to reserve appointments and draw waiting tags, transparent and always current waiting times, as well as automatic reminders shortly before appointments. These are all arguments for cleverQ.
Further links to the topic