Success story Tax Administration SH
cleverQ has implemented an individual online appointment booking system for the Schleswig-Holstein tax administration
and integrated a queuing concept with service tickets for walk-in customers.
The Schleswig-Holstein tax administration is integrating the cleverQ online appointment management system with the goal of being able to provide its services at any time during Corona times and beyond.
As public authority, Schleswig-Holstein's tax offices also face major challenges when it comes to qualitatively handling all customer requests in Corona times.
Every visitor – especially in the current situation – wants access to a personal meeting when urgently needed. In order to avoid long waiting times on site and to reduce workload for the staff while booking appointments by telephone, a simple and comprehensible online appointment system has been introduced.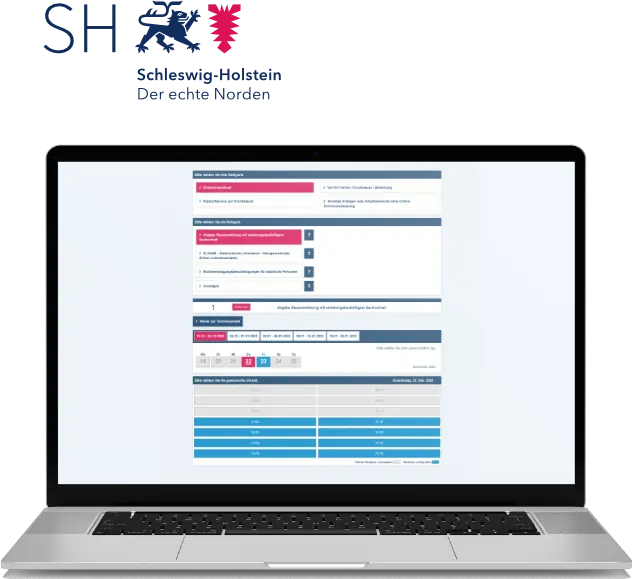 About the Schleswig-Holstein Tax Administration
The Ministry of Finance of the State of Schleswig-Holstein is one of seven ministries of the Schleswig-Holstein state government.
Since 1952, the Ministry has been based in the government district in Kiel-Düsternbrook and is housed in the former Naval Academy, which was rebuilt after the Second World War, located on the Kiel Fjord directly next to the Schleswig-Holstein State Parliament.
The Ministry of Finance is organized into three departments (General Department, Budget and Investments, and Taxes) in accordance with its areas of responsibility. It is responsible for financial policy, financial management and budget, taxes, state holdings in companies and administrative modernization. In addition, a total of 17 tax offices are assigned to the ministry.
The solution - Online appointment booking & service tickets
The tax offices in the state of Schleswig-Holstein use cleverQ online appointment management.
Citizens can use it to easily book appointments online, either via all common browsers or via the free cleverQ app (Android & iPhone).
Furthermore, many assigned tax offices in Schleswig-Holstein use cleverQ e-tickets. This allows citizens to pull digital waiting tags via the free cleverQ app or even print them out on site at service points.
This further reduces waiting time on site and prevents long waiting times.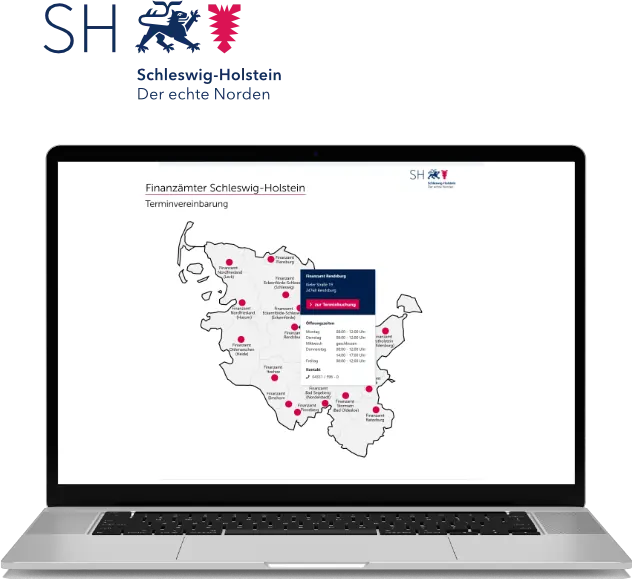 The advantages of cleverQ process management:
With cleverQ, appointment and walk-in customers are managed centrally via a single platform. The queue is always up-to-date, regardless of the type of reservation (ticket printer on site, appointment reservation via web browser or digital reservation in the app). Newly drawn waiting tags and appointments are automatically queued.
Reservation in all common browser systems.
Custom level for convenient editing of all appointments.
Free app for customers to book appointments or for the electronic wait mark.
Customers can cancel appointments quickly and easily.
No correspondence via phone or mail necessary.
Time from cancled appointments is automatically returned to the queuing system in real time.
You would like to test cleverQ for your company or book it directly? Just send us a short message and we will get back to you immediately.