A modern & economical queuing system for the management of your waiting area
made in Germany

Are you looking for an innovative and economical solution for organizing your waiting area? cleverQ offers you all the advantages of a digital queuing system and a modern on-site queuing system. Direct and organize your walk-in and appointment customers centralized via one platform.
Queuing system cleverQ - the choice is yours
Customize your individual solution
Do you want a digital queuing system, a high-performance and reliable kiosk system in combination with monitors, a conventional ticket issuing system or do you want to enable your customers to book appointments on site and online? With cleverQ, you can implement individual components quickly and easily in your company, or you can combine your desired features to create a first-class queuing system for managing your waiting areas, regardless of whether it's walk-in customers or appointment customers. Everything is controlled centrally via a user-friendly platform.
Modern kiosk systems
With our long-term partner MEM-O-MATIC GmbH, you can benefit from 48 years of experience with queuing systems and queue management. Our kiosk systems enable numerous useful functions from ticket reservation to appointment booking or QR code registration.
Touch kiosk systems
Multilingual
Ticket printers as free standing devices,
tabletop printers for receptions
or as wall installation.
Extensive appointment booking functions
Reliable ticket allocation
QR code registration
and many other functions
Planning, consulting, installation and commissioning by trained specialists.
Queue Management
cleverQ's web queue management allows you to manage your walk-in and appointment customers centrally via one platform. Regardless of whether customers book an appointment online, use the app or pull a ticket on site, everything is added to your digital queue centrally and in real time. Even if an appointment is canceled, free appointment slots are automatically released and made available to your customers for booking.
Centralized management of walk-in and appointment customers
Real-time display of all appointment slots and waiting persons in your queue
Data-supported, statistical evaluations of all processes in connection with appointment and waiting time management
Automatic release of appointment slots in case of cancellation
Forwarding, postponing or repeating calls
Blocking or releasing of queue ticket issuance
Access control in connection with called customer
Assignment of rights for employees
Operation on request on your own servers or as hosting with German partners (Hetzner)
Online & Offline Appointment Service
With cleverQ, you can quickly & easily make your services available online so that your customers can book appointments at your company ( around the clock, if desired). You can offer on-site appointment booking either via our smart kiosk systems or conventionally via reception or telephone. Entering appointments is intuitive and easy for your employees.
Create individual services & concerns
Unlimited number of calendars & users
User roles & permissions
Appointment templates
Weekly schedules
Exception & holidays
Location management
Provide appointments for video consulting
Setting up the system environment according to your wishes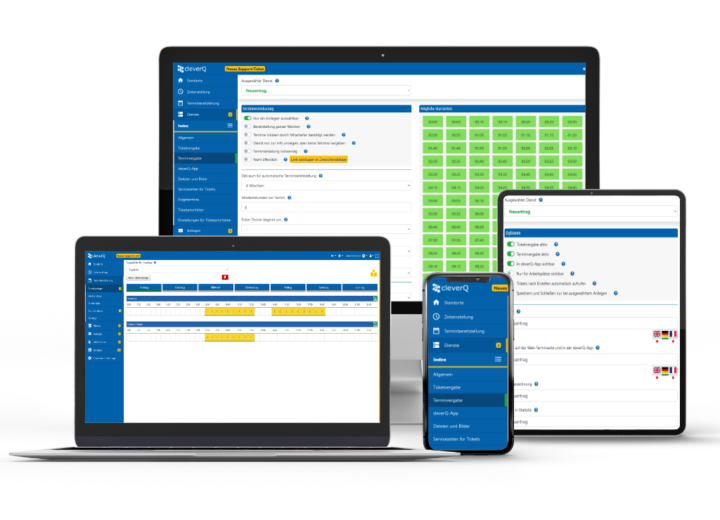 e-Tickets (digital waiting tickets)
With cleverQ's web queue management, you can issue e-tickets (digital queue tokens) via all common browsers. You don't need to install any additional software (SaaS – Software as a Service). Your customers either book their queue tickets comfortably with the free cleverQ app, on site with a kiosk system or at the reception.
Your customers do not have to be on site to pull an e-ticket.
aiting times on site are reduced
Pulling tickets via the free cleverQ app,
via QR code,
on site at the kiosk system
or via SMS
Waiting time before the call no longer has to be spent in the waiting area (queue and remaining waiting time are displayed on the smartphone in real time).
Monitors & Displays
Our queuing displays can handle much more than simple numbers. On request, we can expand your queuing monitors into fully-fledged digital signage solutions that allow you to centrally manage, plan and display the latest information, news or advertising. An individual presentation of your queuing screen is easily possible and adaptable to your CI.
LED-Displays in unterschiedlichsten Größen
Digital Signage Anbindung
Individualisierung der Aufrufmasken
Mehrsprachigkeit
Wunschinstallation als Freistehende Monitore, als Wandinstallation oder als Desktopvariante
Zentrale Steuerung der Anzeigen mit cleverQ Web-Control, ganz bequem über Webbrowser
Planung, Beratung, Installation und Inbetriebnahme von geschultem Fachpersonal.
Industry specialized queuing systems
Our queuing systems and devices are specialized in the areas of government, finance, utilities, healthcare, public transport, logistics and professional services.
The cleverQ concept adapts to the requirements and processes of a public authority without taking up the IT infrastructure.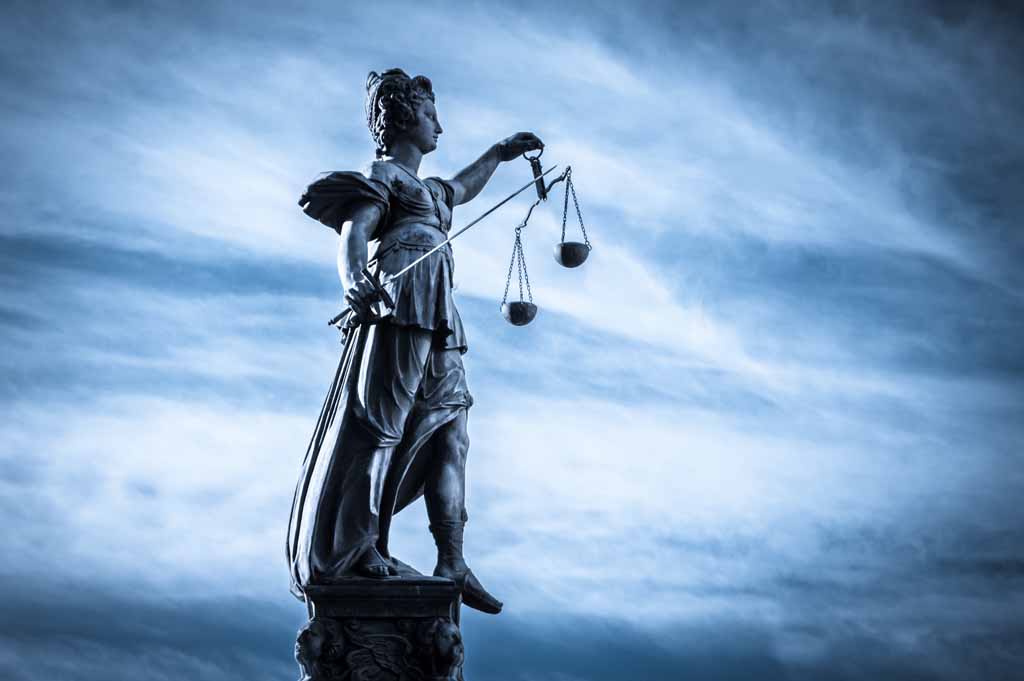 Digitalization in the financial industry is increasingly being shaped by the customer. That's why innovative services are needed now more than ever.
Utilities are service companies and have a responsibility, whether government or private, to provide customers with a…
cleverQ - The industry expert For public authorities and professional service providers
You would like to receive more information or would like to talk to us personally? Simply get in touch with us. We can help you with all your questions about cleverQ, provide consultation on your individual requirements, or provide you with a free demo account.
Useful functions of a cleverQ call system
PERFORMANCE, WORK EASE, SERVICE OPTIMIZATION
Data-supported, statistical evaluations of all processes of your queuing system
Get a detailed overview of the processing and organization of your citizen/customer flows. Graphically generated evaluations of the most important process flows help you to view workload peaks, processing times or average values for waiting times. With these evaluations, you can take data-based decisions to improve customer service and employee efficiency.
Perfectly suited for multiple branches or locations
The big advantage is that only one license is required per company/location for unlimited users/workstations. With cleverQ, multiple locations can be conveniently controlled in one central application. Depending on the user, permissions can be defined in the cleverQ system administration as to who can see or edit what. This makes it easier to work or evaluate data across multiple locations.
German hoster, ISO27001, DSGVO compliant, C5 Cloud Computing
We ensure data security on several levels. We cooperate with German hosters, comply with all GDPR regulations and periodically renew our ISO 27001 certification (Information security management systems). Depending on requirements and customer preferences, dedicated cleverQ servers can be set up in the company network. This means that all cleverQ features are only accessible in your company network.
"We were looking for a simple solution for our test centers in order to optimize the process flows for the users or customers and our employees in the best possible way. That means short waiting times, transparency for customers and good handling for the staff. cleverQ delivered a suitable overall concept for us here."
"At SWP, service comes first. We wanted to translate that service mindset into the waiting room and make the experience as pleasant as possible for our customers, and then Corona came along. We needed a solution for our customers now more than ever. In the future, customers will even be able to book appointments for a personal video consultation via the cleverQ platform. cleverQ was the right solution for us."
Sie haben weitergehende Fragen zu cleverQ oder wünschen ein unverbindliches Angebot für Ihr Unternehmen? Schreiben Sie uns!
Do you want more information on the topic of cleverQ and waiting time management or would you like a no-obligation consultation? Then simply give us a call.
Information on data protection and the imprint can be found here:
Adress:
B.I.C. GmbH
Am Farmböddel 7a
D- 24623 Großenaspe