Dear customers,
A new update has been installed for your cleverQ system.
Updates are regular changes to our cleverQ software that provide you with new functions, improvements and the latest patches for the necessary IT security.
Our updates are free of charge and are activated directly so that you can benefit from the advantages immediately.
We want to ensure that you are always up to date and can benefit from the most advanced tools and technologies.
We keep cleverQ up to date with regular updates to provide you with the best possible performance and user experience.
Do you have questions about our latest updates and features?
Our sales team and project managers are always at your disposal.
Do not hesitate to contact us – we will be happy to help you.
Kind regards,
Your cleverQ team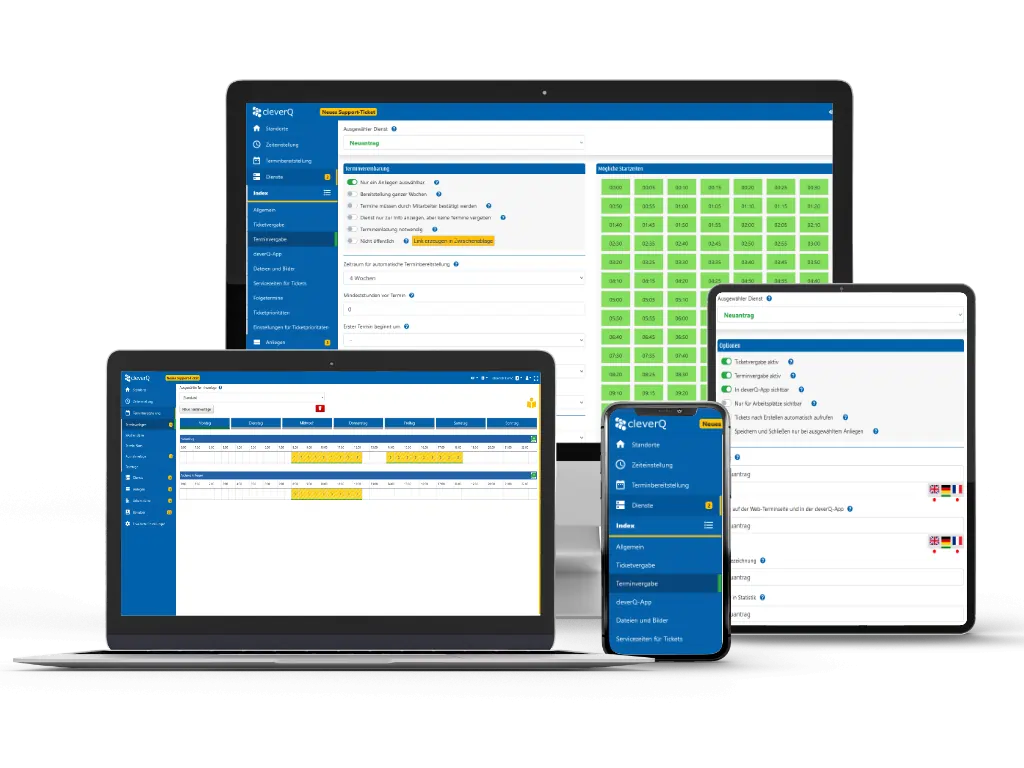 New update features that are already active:
Shortening SMS texts to make them more understandable for your customers. Texts for SMS dispatch, when using the digital browser ticket and/or SMS dispatch for appointment confirmations, appointment reminders or cancellations.
The button "Create ticket", on the cleverQ workstations, is now always visible, regardless of the resolution/size of the monitor. This is, of course, a feature that must be actively enabled on your end in order for you to create tickets on the workstations.
If you use the "Surveys/Customer Feedback" module from us, the client and site admins are now also able to fully manage this module in the cleverQ backend area.
Customization option, of the text, on your web appointment page: "Your data will be automatically deleted by cleverQ after your appointment."
Download CSV files for the "not appeared" selection option in the statistics.
Some adjustments in the area of statistics. Among other things, an evaluation can now be created for individually selected locations. Users can now only see the locations in the statistics to which they are assigned. More detailed descriptions in the "question marks" sections.
On the workstations, notes can be added to each appointment in the appointment list. All employees who have access to the appointment overview can now add their own notes to an appointment, which can be viewed by other employees/colleagues (like a chat). These notes can still be viewed in the ticket list even after queuing.
Service groups, same as request, can be set as "non-public" so that they are only accessible via a special link and are not directly visible on the web appointment page.
Display of the ticket list (pending tickets), now also possible as a display option on the call monitors.
Possibility to sort appointment templates. For this purpose, an index has been introduced in which the appointment templates, such as the requests, can be moved in position using arrow keys.